God gave us all a common home: but it's only temporary!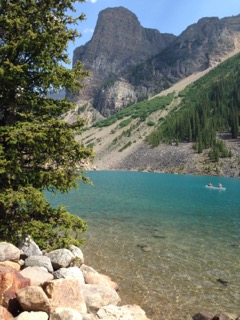 Pope Francis loves creation.  In his new encyclical Laudato Si, he calls creation "Our Common Home," i.e., creation is a home belonging to all God's people.  Pope Francis wants everyone to remember that this earth is not the personal possession of any one race, person, class or culture.  It belongs to God.
Certainly God created the world for us to enjoy, but as my Mother used to say: "to help us get from here to there."  What she meant is the most profound theology we can ever learn.
What my Mother meant is this.  God put us on earth to get "to know Him, love Him, and serve Him in this world, and to be with Him in the next."  We learned this convincingly  in our beginning years as fledgling Catholics!  Today, as we read,  it is the basic inspiration in Pope Francis' teaching in the encyclical and the one that my Mother and Pope Francis would certainly be in agreement.
Like Pope Francis, my Mother knew how deep God's desire is that we get to Him when our life is over.  What Pope Francis wants us to keep in mind---is that for God it is equally important that those traveling beside us-get there too!  Our bountiful earth supplied with essentials like water, air, food, and other needed resources are God's common provisions.
They are still God's, but we take what we need now for our journey to heaven.  Pope Francis asks in Laudato Si: "Don't be greedy.  Only take what we need, and offer the rest to those who can't enjoy what we enjoy."  The Pope asks us to remember to live mindfully of those others who need and want some of what we enjoy so readily.
Indeed this common home shows how passionate  Our God is that we live "loving and serving Him now and later live with Him in heaven."  But He wants everyone else too, as well.
Pope Francis is simply reminding us to help God fulfill this dream, so that one-day when we all arrive safely we can say "Laudato Si"--"Praise be to You, My Lord!"