Sometimes Our God Is Like a Cheering Grandfather!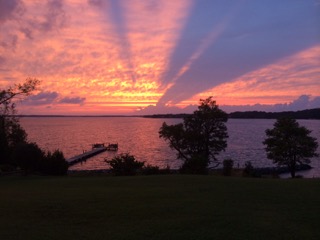 When we think about all the times we wait and get discouraged, we need only stop and consider the many times God waits for us and never gets discouraged. What is God waiting for, we may ask? God waits for each one of us to catch up to the expectations He has for each of us After all, when God's gaze falls upon us, He only sees what's possible. More importantly, we are delighted to believe that nothing is impossible with God. Even in our most stubborn moments, God waits for us "to make His day"-- that is by making the right decision.
When we realize how long God waits for this to happen, we need to promise Him not to give up on ourselves. This is especially true when we see we are not anywhere near the place where God desires us to be. Difficult as that may be for us, we have to try to remember that God, Our Father, still loves us as we are. We have to believe that He embraces the person we have become, even though He willingly waits for the person He wants eagerly to see.
With each step we take in that direction, Our God gleefully caresses us with the love and the compassion that a grandfather feels watching his five year old granddaughter doing her first ballet steps! God is delightfully pleased.
This is why we promise to keep moving forward with each step filled with hope and never with hopelessness--as God stands by our side cheering us to succeed. This poem from Thomas Merton sums up this journey best:
My Lord God, I have no idea where I am going.
I do not see the road ahead of me.
I cannot know for certain where it will end.
Nor do I really know myself,
And the fact that I think I am following your will
Doesn't mean that I am actually doing so.
But I believe that the desire to please you does in fact please you,
And I hope that I have that desire in all that I am doing.
I hope that I will never do anything apart from that desire.
And I know that if I do this, you will lead me by the right road,
Though I may know nothing about it.
Therefore I will trust you always
Though I may seem to be lost and in the shadow of death.
I will not fear, for you are ever with me,
And you will never leave me to face my perils alone.
This is why we need never fear, the Lord stands with us-always!